As seen in Pop Culture Collecting Magazine

- Published September, 1999 -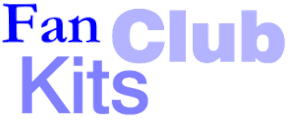 by Bill D. Morgan and Greg Davis
Almost since the birth of television, fans of popular programs have expressed adoration for their favorite stars or TV shows in a variety of ways. The most prevalent method has been to join a fan club. To the benefit of TV memorabilia hobbyists, the plethora of clubs spawned over the years has left a trail of exclusive merchandise and invaluable club kits.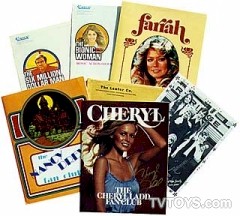 A variety of kits were offered during the 1970s for only a few dollars. Today, the average value
of a complete kit is about $75.
During the early years of television, a modest number of fan clubs were formed. For example, fans in the 1950s had a Dennis the Menace fan club, while during the 1960s, "Sally's Friends" was formed to satisfy audiences of both Gidget and The Flying Nun.
However, the real explosion of fan clubs occurred during the 1970s. During this era, clubs were backed by heavy promotional ads that appeared in everything from teen magazines to the back of cereal boxes. Many of these clubs were initiated by publicists, who used them to wage heavy ad campaigns to promote the shows and the celebrities who starred in them. Fans and collectors only stood to benefit from those marketing efforts.
Prior to that time, kits were constructed modestly and contained plain paper items and black and white photos. Starting in the 1970s, however, kits were professionally designed and more elaborately made than their predecessors. Many included additional benefits like quarterly newsletters, stickers and records. Perhaps the biggest change was in the use of full color photos.
Fan Club Corporation of America (FCCA) was the largest producer of kits during the late '70s and early '80s. The average cost of their memberships was $6. Two top sellers for FCCA were the 1977 and 1980 Farrah Fawcett kits. Fans joining Farrah's 1977 club received a 9 x 12-inch color folio packed with photos and information.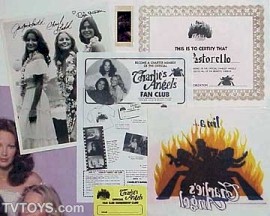 The "Charlie's Angels" fan club was licensed by Spelling-Goldberg Productions and sold for $5 in 1977. Today it is one of the most valuable TV fan club kits and is valued at $300.
Included was an official plastic membership card (similar to a credit card) with a color photo of Farrah, a membership scroll, an 8 x 10 black and white photo, a 4 x 5 color photo, biography profile, a 16 x 20 color poster, color wallet photos, a 5 x 7 color photo, and discounts for related posters and other memorabilia. A $6 investment in 1977, a complete Farrah kit is now worth well over $100. The 1980 kit includes similar contents, but with a different folio and photographs.
Although the FCCA was one of the largest fan club management organizations around, it wasn't the only game in town. Laufer Publications' Tiger Beat and Fave magazines offered their own style of fan club kits, including ones for The Partridge Family, David Cassidy, The Brady Bunch, Bobby Sherman and Leif Garrett.
With a reader base of over one million, Laufer Publications was a major contender in the fan club arena. Laufer's offerings weren't quite as colorful and luxurious, but they cost only half as much. Most of their kits consisted of black and white photos, simple cardboard membership cards, and black and white biography booklets.
Originally offered for only $2 plus 50¢ for postage and handling, this "Brady Bunch" kit sold for more than 100 times that amount in a recent Internet auction.
However, the company did include a desirable premium in some of its packets – a recorded welcome message in the celebrity's own voice. For example, the David Cassidy kit came with a 7-inch blue cardboard record graced with a black silhouette of his visage. The kit also included a 1972 poster calendar, biography booklet, a 5 x 8 color photo, Luv Stickers and a membership card. Two similar kits for The Partridge Family also boasted images of the teen idol. All three kits are valued at $150 each.
After the avalanche of kits that hit during the 1970s, fan club activity subsided. Only a handful of official kits have been issued in recent years, among them a 1980s kit for The A Team, and another for Beverly Hills 90210 in the 1990s.
The 90210 kit was handsomely designed in traditional fan club fashion, complete with book cover, embroidered logo patch, membership card, bumper sticker, biography booklet and a mini-poster. Members also received a series of newsletters titled The West Beverly Blaze. Considering the $20 cost to become a member, it's unfortunate that the club had an untimely demise after only three newsletters were issued.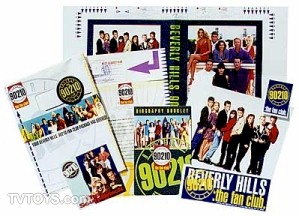 In 1992 "Beverly Hills 90210: The Fan Club" was offered for $19.95. In typical fan club tradition, members were offered exclusive merchandise to purchase.
Dramatic changes in the way fan clubs are formed have occurred in recent years. Today, just one or more devoted fans create and run many of the existing clubs. Without the financial backing of club management companies or show promoters, these fans have been forced to think of creative ways to bring other fans together.
Many rely on word-of-mouth, distribute flyers, or print inexpensive advertisements in local newspapers or collectibles publications. The fastest-growing medium for these enterprises has been the Internet. The next time you're browsing a web-based search engine, try entering some of your favorite TV stars and show names as keywords. You may be surprised at what you'll find.
Those who are looking for a particular fan club, or want to start one of their own, also should check with The National Association of Fan Clubs. The NAFC was founded over 20 years ago and maintains a huge database of fan clubs. By sending a written request for information, you can find out how to start a club, or how to get in touch with an existing one.
The NAFC also publishes an annual directory of fan clubs. Letters can be addressed to N.A.F.C., P.O. Box 7487, Burbank, CA 91510. You can also reach them by phone at (818) 763-3280, or online at http://www.fanclubs.com.
From the publication Collecting Magazine
Greg Davis and Bill D. Morgan are the authors of
Collector's Guide to TV Toys and Memorabilia — 2nd Edition Website: TVTOYS.com
Copyright (c) TVTOYS.com, Odyssey Publications. All Rights Reserved.