As seen in Pop Culture Collecting Magazine

- Published August, 1999 -
THAT GIRL
by Bill D. Morgan and Greg Davis
Long before Murphy Brown and Mary Tyler Moore entertained TV audiences with their brand of feminine independence, a smart-witted, hairdo-flipped vixen wowed viewers with a more light-hearted dose of girl power. In the mid-1960s, Marlo Thomas was cast as Ann Marie in a ground-breaking sitcom about a single female in search of her "big break" in show business. With her throaty inflections and princess-like charm, this ultimate '60s sweetheart brought the house down - and the ratings up - in 136 episodes of ABC's That Girl.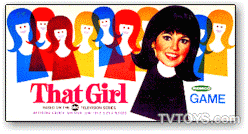 Although the show centered around a feminist, a major contributor to the success of That Girl was "That Guy," Ted Bessell. Bessell landed the part of Ann Marie's boyfriend, Donald Hollinger, and became the springboard of her feminine blunders, trifling schemes, and a notorious reference she sounded off dozens of times - "Oh, Donald!"
The charisma between the romantic pair seemed so natural and was such an important ingredient to the popularity of That Girl, it's hard to believe the two almost fell victim to a major casting blunder. The script for the first pilot placed Bessell in the role of Ann Marie's agent. Fortunately, this version was canned and a new pilot that introduced the couple as a potential love interest was filmed. The rest is history.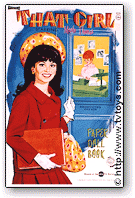 Although fans can digest five seasons of That Girl to in reruns, those looking for more tangible memories of the show may be disappointed. Merchandisers of the mid-60s were not keen to producing the slew of TV-related memorabilia like they were in the '70s. Instead, most '60s programs only spawned the regular staples of memorabilia such as lunch boxes, comic books and trading cards. Sadly, not one of these items was made for That Girl. As a result, the handful of pieces that were made have become highly coveted collector's items.
During the first season of That Girl, Saalfield and Artcraft produced several different coloring books and paper doll kits that made up the bulk of official show merchandise. The first offering was a 6 x 15-inch box set labeled "Paper Doll and Lots To Do Fun." This tall thin box features an image of Ann Marie on the cover with contents including a That Girl paper doll, mini coloring book, crayons, travel game and a sticker book. A second boxed paper doll set was released the following year, but came in an 11 x 14-inch box that included two paper dolls and 13 punch-out outfits. Both of the boxed sets are extremely difficult to find. If you're lucky enough to come across either, expect to pay more than $100 for each.
Collectors shouldn't be discouraged, however, because paper dolls in the form of booklets are much easier to locate. In 1967, Saalfield designed three different 8 x 12-inch books, each containing three punch-out dolls. The outfits in these books require scissors to be removed and appear to be straight from Ann Marie's mod, stylish wardrobe. Two of the covers have a similar design, and feature Ann Marie standing against a white background, while the third book has a green cover and a cutout window showing a photo of the young starlet. An uncut book sells in the $40-$50 range.

That Book About That Girl:
The Unofficial Companion
by Stephen Cole
Paperback - 224 pages, 1999.
[Order From Amazon.com]
From 1967 to 1970, Saalfield and Artcraft also made a series of coloring books. Although there are six different ones, a close examination will reveal that the content is almost identical, and the covers contain only slight variations such as a different background colors. The story inside each book is an alternate account of Ann Marie's introduction to New York that includes a date with a guy named Tommy, and a corny acting job as "Pancake Queen." Uncolored books are scarce. Expect to pay a least $25 for one that has been used, and up to $40 for one in mint condition.
In 1967, Marlo Thomas was the model for a limited edition That Girl doll by Madame Alexander. The doll is 17½ inches high and was sold in two different outfits. One has a long evening gown and the other a mod-style skirt. Although the Madame Alexander dolls were initially sold at a premium due to the maker's popularity and limited-edition issues, their value still continues to climb. That Girl dolls now sell for more than $800.
Not as valuable as the doll, but probably the most desirable That Girl collectible is the 1968 board game by Remco. The box cover contains a mosaic spread of the cartoon image that was featured in the beginning of each episode. Thomas' likeness also appears on the playing board, game cards, play money, and four cardboard movers. The object of the game matches the plot of each show - to overcome obstacles while trying to become a star. Remco games are hard to come by and this one is highly sought after. It's valued at $200-$250, but recent auctions have placed it even higher.
The latest That Girl commodity to add to your collection is a book based on the show and Marlo Thomas' career. "That Book! About That Girl," (Renaissance Books $14.95) is scheduled for release in July of '99 and will include interviews with the show's creators, photos from Thomas' private collection, and an episode guide.
From the publication Collecting Magazine
Greg Davis and Bill D. Morgan are the authors of
Collector's Guide to TV Toys and Memorabilia — 2nd Edition Website: TVTOYS.com
Copyright (c) TVTOYS.com, Odyssey Publications. All Rights Reserved.
---
---