As seen in Toy Trader Magazine

- Published March, 1999 -
TV Star Cars
by Bill D. Morgan and Greg Davis
Many factors contribute to the style of a television show. Set decoration, location and costumes are vital to the overall look of the program. There's one factor, however, that can have the biggest impact on the look of a show - the main character's mode of transportation.
Many classic TV shows can be easily recognized by simply catching a glimpse of the car a character drives. What would 'The Partridge Family' have been like without the family traveling around in a multi-colored bus? Is there anything else you can imagine Batman riding around in other than the Batmobile? Just as recognizable are the General Lee from 'The Dukes of Hazzard,' Tom Selleck's red-hot Ferrari in 'Magnum, P.I.,' 'The Beverly Hillbillies' truck, the K.I.T.T. car from 'Knight Rider,' 'Starsky and Hutch's' Ford Gran Torino and countless others.
These cars added style and appeal to the shows, and toy replicas have surfaced over the years so viewers could participate in the fun and excitement at home. Model kits, radio-controlled replicas, die cast metal versions and those in miniature form for play with action figures and dolls are available for collectors of TV memorabilia.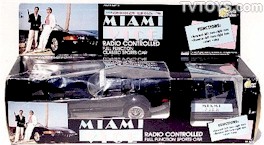 The #1 show 'Happy Days' was on the air for over 10 years, long enough to produce a multitude of TV cars. From 1976 to 1982, three different model makers introduced nostalgic roadsters for kids across America watching the show. Revell designed a '54 Chevy, '41 Willys, '57 Chevy Nomad, T'Bucket, '31 Model A Delivery and a '29 Model A pickup. All of them range from about $25-$35 today, if found unassembled in the box. MPC was responsible for Fonzie's Dream Rod and a popular kit of the Fonz and his motorcycle. These run about $50-$75 each. Palmer kits are the hardest to find and the most valuable. They include the Draggin' Wagon, Rock N' Roll Rod and Burger Buggy. All three command at least $75.
Mego is known for creating the most memorable 8' action figures during the '70s and '80s. Several plastic vehicles were designed as companion toys for the male and female figures. A 15' Ford truck was developed to resemble the one the Waltons drove around in. The many car chases seen on 'The Dukes of Hazzard' were reenacted with Mego's versions of Daisy's Jeep and the General Lee, with an additional Caddy Crash Car and Motorized Crash Set playset. One of the hardest Mego replicas to find is the 'Greatest American Hero' white convertible VW Bug with the 3 1/4' poseable action figures of Ralph and Bill. The boxed set can run over $300.
The sports cars of 'Miami Vice' were big sellers during the 1980s. Royal Condor made a 12' black Ferrari Spider in 1987. It was packaged in a window display box featuring photos of detectives Sonny Crockett (Don Johnson) and Ricardo Tubbs (Philip Michael Thomas). Stickers of the show's logo were attached to the windshield of the vehicle and at the base of the controller. Testors issued a 1:24 scale metal model of the white Ferrari Testarossa at about the same time. The die cast model included chromed wheels, detailed chrome engine and doors and an engine lid that opened. Recent sales of these sleek facsimiles have been in the $50-$75 range.
Little Red Gran Torino
An equally popular TV detective show, but set in less-glamorous surroundings was 'Starsky and Hutch.' Detectives Dave Starsky (Paul Michael Glaser) and Ken 'Hutch' Hutchinson (David Soul), tackled the roughest neighborhoods of Los Angeles in a bright red 1974 Ford Gran Torino with a long white stripe down both sides. Racing around the city streets with tires squealing, the Ford Torino became one of the most recognizable vehicles on television. As a result, several toy manufacturers were quick to acquire licensing rights to create their own version of the famous car. Mego's car was packaged in a 16' box that featured a mechanized 'twist-out' action. Accessories included in the box were a fire hydrant, street light and police barricades. Batteries were required to activate the flashing police light and siren. This plastic action vehicle will cost a collector at least $200 for the United States' version and over $300 for one made in the United Kingdom. Several other versions of this car were produced. Among them were a Corgi die cast line that came in a variety of sizes, several larger-scale remote-controlled cars, some smaller gyro-powered models and one designed to house a working AM radio. The duo's Gran Torino was so popular that in 1977 Illco Toys created a toy based solely on the car's dashboard. Packaged in a 13' box, the child-size steering wheel and array of plastic controls were accompanied by a 'Starsky and Hutch' logo sticker. Despite the lack of any star photos on the toy and packaging, this item is quite rare and commands up to $300.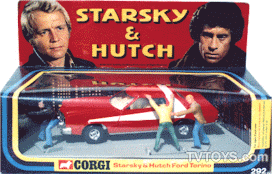 Mettoy created several die cast Corgi replicas of the Ford Gran Torino in boxes and on blister cards. Vehicle sizes and packaging vary greatly, and so do the values. A boxed pair of Torinos, including the larger #292 and a junior #45, were made in 1977 with a current price tag of $175-$200. The smaller junior version can also be found singly on blister cards with a significantly lower cost of $35-$45 each.
Vans were indisputably popular in the 1970s, but do you remember Ponch and Jon from 'CHiPs' actually driving one? They never did, but Empire Toys capitalized on the pair's popularity by designing a van to fit two 8' action figures. Stickers of Ponch and Jon graced each side of the van's dual sliding doors. To make the ride more exciting, more than 20 toy accessories were included. A van epidemic swept the toy market when several other miniature vans were made for hit TV programs like 'Charlie's Angels' and 'Donny and Marie.'
The list of shows featuring a prominent vehicle that spawned a toy counterpart is exhausting. Among these are the 1969 'Mod Squad' station wagon model kit by Aurora ($200), 'The Waltons'' miniature die cast truck by LJN Toys ($50), a 'Mork and Mindy' Jeep model kit and 4-Wheel Drive Jeep for the 9' dolls ($30-$50) and even a 'Green Acres' tractor by Ertl in 1969 ($150).
Holy Wheels Batman!
Television memorabilia enthusiasts who enjoy collecting TV cars owe a debt of gratitude to the individual responsible for dozens of the most famous thrills on wheels. George Barris and his custom vehicle inventions changed the face of television shows forever. Never heard of him? Well, we're certain you've seen his work.
Batman wouldn't have looked as heroic on the streets of Gotham City without his Batmobile. Barris was only given 21 days to design and create the caped crusader's bat-like vehicle, so he utilized an existing car base and made custom modifications. Perhaps one of the most famous cars on television, Barris' Batmobile took the TV studio by surprise. It was sleek, futuristic and looked powerful.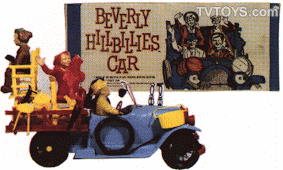 When Universal needed a Gothic, spiderweb-motif set of wheels for 'The Munsters,' Barris dreamed up the Munster Koach, complete with a headstone-styled Model T radiator, red plush velvet upholstery, gas lanterns, curtained windows, coffin door handles and footman's seat. Shortly thereafter came Grandpa Munster's coffin-on-wheels dubbed 'Drag-u-la.' Collectors can find miniature versions of both vehicles, but they will pay handsomely for the discovery.
CBS asked Barris to build a jalopy for a new comedy series called 'The Beverly Hillbillies.' Crafted from a 1921 Oldsmobile touring car, he created a platform with a park bench seat, and piled it high with a family rocker, washtub, shotguns and other family artifacts. Ideal transformed the 'Beverly Hillbillies' vehicle into a plastic truck with five figures and accessories in 1963. The two foot toy with figures is valued at $400-$500 if found in the box, and will cost about half that if found loose. MPC followed by issuing a model kit that included instructions to assemble the truck one of two different ways. One was the classic hillbilly style, and the other was Granny's haulin' hot rod. The 1968 MPC kit is valued at $100-$125.
Other Barris creations included the vehicle for the teenage musicians of 'The Bugaloos.' The result was a colorful four-passenger VW Bug with leaf-like features and a vibrant pair of 'wings' that gave it an airborne effect. Barris contracted with MPC to design a plastic model kit, but it is doubtful that it ever made it into production. This Saturday morning show only consisted of 17 episodes and no reports of the kit's existence have surfaced. Barris developed the high-tech car known as the Knight Industries Two-Thousand, or K.I.T.T. for short, used on 'Knight Rider.' The Pontiac Trans-Am was ready to attack and could travel at speeds up to 300 mph. On-board armaments included flame-throwers and smoke bombs. Die cast, plastic, and tin versions of the K.I.T.T. car were created and sold throughout the 1980s.
It's Monkee Business
MPC was just one of the many toy companies that produced Barris' Monkeemobile from 'The Monkees.' The miniature form was produced as a 1:25 scale plastic model kit by MPC in 1967. A U.K. version was made by Airfix. It was molded in the U.S. and it is the same kit as the one released by MPC. Today, the unassembled kits sell for about $200-$300. Other toy versions of the Monkeemobile include: 3' die cast cars in blue, green, red and yellow with roofs that glow in the dark; 4 3/4' and 3' die cast Corgi cars by Mettoy; and a 12' Japanese battery-operated car with figures and instruments. The most valuable car in this group is the Japanese version which sells for well over $500.
These inventive creations are only a few of Barris' famous works of art. His credits also include the wild hot rod in 'The Many Loves of Dobie Gillis,' the vintage vehicle in 'My Mother the Car,' the school bus-turned checkered family tour bus on 'The Partridge Family,' the fetching sports car on 'Hardcastle and McCormick' and the Mannix Roadster on 'Mannix.'
The idea of creating replicas of well-known celebrity vehicles hasn't subsided. Earlier this year, Matchbox introduced a Star Car Collection that has brought some classic TV cars back to life, some for the first time. Five popular TV shows and one movie are represented in the first series of 1:63 scale die cast cars. They include: a Ford LTD cab from 'Taxi'; the Brady's Sable Station Wagon from 'The Brady Bunch'; the '56 Ford Pickup from 'Happy Days'; the 4077 Jeep from 'M.A.S.H.'; and a TV news truck from 'Mission: Impossible.' The sixth car is a Willy's Street Rod, a.k.a. Greased Lightning, from the motion picture 'Grease.'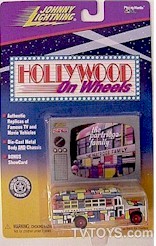 Each car in the series sits on top of a decorated collector's box and is mounted on a blister card containing a cast photo or still from the TV series. The back of each card lists trivia questions relating to the show. These haven't been officially named limited in production, but each car is labeled as a special edition. Star Cars have been quickly flying off store shelves and it's challenging to find a complete set in one visit. Some collectible dealers are already asking double their suggested $4.99 retail value. Matchbox recently released a second series of Star Cars this fall, including a Plymouth Police Car from 'Miami Vice,' a red Ferrari 308 GTB from 'Magnum P.I.' and a Ferrari Testarossa from 'Miami Vice.' Other movie related vehicles include an Amity police boat from 'Jaws,' Pontiac Firebird from 'Smokey & the Bandit' and a '62 Corvette from 'Animal House.'
Matchbox has also created a few Star Car Special Edition vehicles that are desirable for many collectors. Car #14 is a Shotz brewery van from 'Laverne and Shirley.' A Shotz logo appears on the sides and top of the white van. The rear includes 'Squiggy was here' and 'Wash me' messages. Special Edition #16 is a Ford Model A Coupe from 'The Untouchables.' It was designed with bullet holes in the doors and rear fender.
Vehicles from animated shows have also found their way onto toy store shelves during the past few years. Cars from 'Speed Racer,' 'Scooby Doo' and 'Wacky Races' are selling for under $5.
In late 1998, Playing Mantis entered the collectible highway and released a Hollywood on Wheels collection. Each of their eight issues is a brand new casting, modeled after the real vehicles used in the movie or TV show represented. They are sold on blister cards with a ShowCard included in the packaging. Each ShowCard includes an actual still or film clip shot on location. There are five different cards available with the same vehicle inside. The Hollywood series includes TV vehicle versions from 'The Monkees,' 'The Partridge Family,' 'Starsky & Hutch,' 'The Andy Griffith Show' and 'Dragnet.' Like other celebrity toy cars on the market, Hollywood on Wheels vehicles retail for under $5 and are available at several retailers, including Target, Kmart, and Toys R Us.
The next time you're watching your favorite TV show take a second look at the car the characters are driving. You may see it on toy store shelves soon - if you haven't already.
From the publication Toy Trader
Greg Davis and Bill D. Morgan are the authors of
Collector's Guide to TV Toys and Memorabilia — 2nd Edition Website: TVTOYS.com
Copyright (c) TVTOYS.com, Antique Trader Publications, Inc. All Rights Reserved.