As seen in Toy Trader Magazine

- Published October, 1998 -
CHiPs:
The Boys are Back in Town

by Bill D. Morgan and Greg Davis
It's been 21 years this month since Officers Jon Baker and Frank "Ponch" Poncherello first patrolled the freeways of Los Angeles on the hit NBC TV show "CHiPs." The series originally aired on September 15, 1977 and was one of NBC's highest rated programs of the '70s. During its height of popularity, "CHiPs" caught the attention of 40% of the viewing audience. With an 8:00 p.m. time slot on Saturday evenings, it generated a preteen and teen audience that helped launch the careers of its stars, Larry Wilcox and Erik Estrada. "CHiPs" consisted of 132 sixty-minute segments and three ninety-minute specials. The adventures of Ponch and Jon (later replaced by Tom Reilly as Officer Bobby Nelson in the last year) ended after six seasons.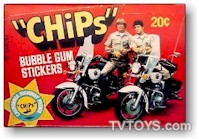 "CHiPs" is making its way back to television this year with a reunion movie set to air on cable's TNT channel next month. Titled "CHiPs 99," the TV movie will reunite most of the original characters after a 15 year separation. Scheduled to appear are Erik Estrada as Ponch, Larry Wilcox as Jon, Robert Pine as Sgt. Joe Getraer, Randi Oakes as Officer Bonnie Clark, and Bruce Penhall as Cadet Bruce Nelson.
Trading in their Kawasaki 900's for sporty new BMW motorcycles, Ponch and Jon team up once again to break up a car-theft ring. The TV-movie is rumored to include the usual heavy quotient of car crashes and gas-tanker explosions. Filming began back on July 9th and is scheduled to wrap up in time for an October 27th airdate.
During its original run, "CHiPs" was occasionally interrupted by disputes, salary or otherwise, between actors Larry Wilcox and Erik Estrada. What began as a starring vehicle for Wilcox, with Estrada playing his goofy Italian sidekick, ended up as a more serious action-adventure show with a huge breakout star – Erik Estrada. Reportedly receiving up to 4,000 fan letters each week, Estrada became a teen idol sensation while Wilcox faded into the background.
This transformation didn't occur overnight. The first episode was brutally criticized by the press, with reviews ranging from bad to worse. The show was heading toward cancellation by the end of the 10th episode, when the show's creator and producer, Rick Rosner, was replaced by a more experienced leader, Cy Chermak. Chermak brought with him a new team of writers and began making some changes to the characters, namely Frank Poncherello. Erik Estrada had already begun to receive media attention, so his character was given a more central role in the series. This put a strain on the relationship between the two stars that never seemed to repair itself fully.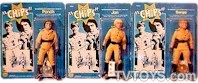 NBC's decision to move the series from Thursday to Saturday night, along with Chermak's changes paid off, catapulting "CHiPs" from 57th in the ratings to rank in the Top 20. It tied with ABC's "Charlie's Angels" for the number 18 spot during its 1979-1980 season.

Story changes were the first of many blows to the relationship between the lead actors. After a near-fatal motorcycle accident while filming, Erik Estrada missed a few episodes during the third season. Reportedly caused by the studio's hasty decision to have an inexperienced teamster handle a stunt scene in a getaway car, Estrada's injuries were of concern to MGM-TV. In an effort to apologize, the studio surprised him with a brand new Rolls Royce. The gesture infuriated Wilcox who demanded equal treatment and was soon reciprocated with a Rolls Royce of his own.

THE CHIPS WERE DOWN FOR PONCH Perhaps the biggest blow came when Estrada walked off the set for several episodes. He was in a dispute with the studio over compensation for the show's sale into syndication. Estrada had a 25 percent participation agreement for anything related to the show, including revenue from its syndication. Fearing that the studio would find a way to cheat him out of an estimated ten million dollars, he and his attorneys visited with studio executives to work out a deal. When the studio made it clear that there was nothing to negotiate at that time, Estrada refused to show up on the set.

Olympic athlete Bruce Jenner was hired to fill Estrada's shoes, playing Officer Steve McLeish for seven episodes during the fifth season. When the show's ratings began to plummet, the studio gave in to Estrada's demands, increasing his $50,000 per episode fee to $80,000, and paying him a bonus of one million dollars as a good-will gesture.

Larry Wilcox called it quits after five years. He left the series to concentrate on his film career that includes: Deadly Lessons (1983); The Dirty Dozen – The Next Mission (1985); Perry Mason: The Case of the Avenging Ace (1988); Wedding Band (1989); Mission Manila (1989); and National Lampoon's Loaded Weapon 1 (1993).

Erik Estrada finished up the sixth season in 22 episodes without his trusted partner. Tom Reilly was hired as Wilcox's replacement, playing Officer Bobby Nelson. "CHiPs" final episode aired on March 20, 1983.

Estrada appeared in a string of films after "CHiPs," including: Light Blast (1985); Hour of the Assassin( 1986); Alien Seed (1989); The Last Riders (1990); A Show of Force (1990); Earth Angel (1991); Do or Die (1991); National Lampoon's Loaded Weapon 1 (1993); The Final Goal (1995); and Visions (1996). A over 30 movies are included in his filmography.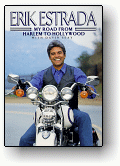 His latest project, and most notable, was the Spanish soap opera "Dos Mujeres, Un Camino" translated into "Two Women, One Direction." His character, Johnny, was originally scheduled to appear in about 100 episodes. From almost the first day it aired, it was obviously a major hit. Estrada received more fan letters than his earlier days on "CHiPs," and his 100-episode deal stretched into over four hundred. The show was the longest-running and highest-rated telenovella in Latin American history.
His newfound celebrity status South of the Border was enhanced when he won the Best Actor category in the Latin American equivalent of the Emmy Awards – the Hacé Awards. Back on top, Estrada decided it was time to put an end to the "bad boy" rumors that he could never elude in Hollywood after the end of "CHiPs." In his autobiography "Erik Estrada: My Road from Harlem to Hollywood" in 1997, Estrada chronicles his life from growing up on the rough streets of New York, details his rise to superstardom as "Ponch" on American television, and shares his most recent Latin American success.

HOT WHEELS, HOT COLLECTIBLES
With early copyright dates of 1977-78 on most of the memorabilia, it's easy to conclude that manufacturers were eager to get a jump start on the opportunity to produce official "CHiPs" merchandise and reap the financial rewards. When the show began in 1977, official licensees included Mego Corp., Placo Toys, H-G Toys Inc., King-Seeley Thermos Co., Milton Bradley, Fleetwood Toys, and Dargis Associates, Inc. During the shows subsequent years of production, several other manufacturers joined the collective mix and added to the existing array of items made. To date, over 115 different items have been accounted for.
Mego's toy line includes some of the most sought after representations of the boys and their bikes. Among the first to be released was a line of 3¾" poseable action figures. Included were a motorcycle, Ponch, Jon, Sarge, and two fictitious villains named Jimmy Squeeks and Wheels Willy. Each are encapsulated by a clear plastic bubble on 6" x 9" illustrated cards. Deluxe sets were also packaged with Ponch or Jon figures on a larger card that included the motorcycle. The deluxe set with a Sarge figure came packaged with a patrol car in a window display box. Each of these sets are a rare find, costing up to $75. The single figures usually run about $15-$20 each.
In conjunction with the 3¾" poseable action figures, Mego released 8" dolls of Ponch, Jon, and Sarge. Each are packaged in 8½" x 10½" blister cards that feature several photos of the stars on the front and back. Inside the blister, each doll is accompanied with an accessories packet containing a helmet, sunglasses and a small sheet of California Highway Patrol stickers.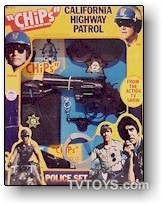 Notably missing from this line up are the villains. Mego planned to create a villain named Chopper to coincide with the "CHiPs" dolls release, but the character was packaged and sold in the "Starsky and Hutch" doll line instead. Unfortunately for collectors, these dolls were not designed to last a lifetime. Because of the organic compound used in the plastic, many of them have discolored over time. It is not uncommon to find a mint-in-package doll with a green or washed-out face. This phenomenon affects the value greatly. Proper storage, care, and the avoidance of ultraviolet light can aid greatly in the preservation of the doll's original appearance. A mint, non-discolored doll is currently valued at over $50.
In 1980, Mego released a boxed motorcycle scaled to fit the 8" dolls. The lack of other accessories may have inspired Empire Toys to design two additional items for the 8" dolls in the same year. One was a two-foot long plastic helicopter and the other a patrol van. The van was also made of plastic and featured sliding doors, each with a photo sticker of either Ponch or Jon. The box measures a 24" x 8" x 14" and includes over 20 small accessories made to add to the excitement of play with the dolls. Although Mego did not create either of these items, most collectors include them in their doll assembly. Each are valued at $100 when found unused in their boxes, while the Mego motorcycle sells for about $50.
Empire Toys didn't limit their line to just doll accessories, they also manufactured an Emergency Medical Kit and child-size motorcycle. The Emergency Medical Kit contains over 25 pieces in a vinyl case. Included is a CHiPs Rescue Safety School Diploma, stethoscope, eye glasses, microscope, wrist watch, pill box with a photo of the stars, badge, walkie talkie, and blood pressure gauge with photo. The motorcycle is the largest item in the entire "CHiPs" collection. It looks something similar to a "Big Wheel" with pedal action and is constructed to hold a child up to 45 pounds. Size matters with this item which is partly responsible for its $250 boxed value.
H-G Toys, who made a slew of TV-related puzzles in the 1970s, was not only responsible for the three boxed "CHiPs" puzzles, but they also produced a few desirable boxed playsets. Their largest set comes in a 15" x 6" x 16" box and contains a child-size helmet, 1:1 scale hammer action Magnum gun, holster, handcuffs, keys, walkie talkies, badge and a pad of play tickets. Constructed from less-than-sturdy cardboard, the boxes are rarely found in mint condition. Due to is scarcity, however, a set in average shape will still run over $100. Other sets made by H-G Toys include a Motorcycle Police Action Set, containing similar contents without a helmet, and another Police Set that includes a water jet gun.
Ideal was certainly a popular toy company in its time, but was only able to design a few "CHiPs" items. One was a board game that features a unique illustration of Ponch and Jon on the box cover. It is a welcome sight to fans and collectors who may have purchased the previously released board game by Milton Bradley in 1977. The Milton Bradley version only contains silhouettes of two generic motorcycle cops on the box lid. Ideal's effort took full advantage of the marketing power of the star's images. The company's other release was a slot car racing set. Included in the illustrated box are highway racetracks with motorcycle and van slot cars. Its value is fours times greater the board games, which sells at about $25 each.
A HIGHWAY OF TOYS
Some of the last sizable toys in the "CHiPs" collection come from Placo Toys and Buddy L. Placo made two items, a plastic bullhorn and a boxed target set game. The bullhorn leaves much to be desired for collectors as it only contains a small photo sticker on the instrument's side. The target set, however, features several photos of Ponch and Jon and is packaged in a large, 16½" x 15½" box. Buddy L made several boxed diecast vehicles as well as a Wind N' Watch Speedster. Buddy L's most enticing release was the diecast gift set that includes four of the vehicles in a 15" x 4" x 10½" window display box. It sells for $100, while each individual vehicle will sell for $25 respectively.
Like many other TV-related items from the '70s and '80s, the "CHiPs" memorabilia line included several items packaged on cards that hung on peg hook display racks. These "rack toys" were generally made by three prominent manufactures that included Larami, Imperial Toys, and Fleetwood. Lucky for collectors, all three obtained a license to produce "CHiPs" toys. Larami seemed to be the least active, however, with only three different items surfacing at last count.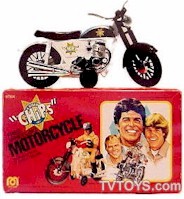 The first was a vinyl wallet in 1979 that varies in color and sports an illustration of the officers plastered on the wallet's front. The card features a photo of Ponch and Jon standing by their bikes with Ponch making a call on his police radio. It's the same photo that was used for a poster manufactured by Dargis Associates just two years prior. The other two items made by Larami include a .45 Magnum Target Set and a Book 'em Set in 1983. Each comes on a unique metallic card the features related police accessories and a colorful firing target range on the back. A Larami carded toy for "CHiPs" should sell at $30.
The bulk of the other carded toys were made by either Fleetwood or Imperial Toys. Together they made over 25 different items. Although most of them consist of child-size police gear, such as sunglasses, badges or handcuff sets, there are a few standouts worth mentioning. Fleetwood produced a camera that actually takes pictures on 110 film. It's valued at over $50. Imperial Toys made diecast vehicles that hold much higher values than the usual plastic toys found on cards. Several different were made that include a motorcycle, rescue ambulance, helicopter, patrol van, and a 4-wheeler. The set was also offered in a deluxe window display box and is worth $75-100.
Trying to complete a "CHiPs" collecting may be quite a challenge. These items are just a drop in the bucket, with dozens of collectibles still left to uncover. Some of them include: a 26-piece Colorforms playset in 1981; Ben Cooper set out to frighten trick-or-treaters with an "Officer" Halloween costume in 1978; a plastic dome-style lunch box arrived in time for lunch in 1977; Revell produced four different models during 1980-1981; posters of Ponch and Jon as well as several of Erik Estrada were flying out of poster shops during most of the show's run; the theme to the show was released in a picture sleeve 45 in 1979 by Windsong Records and was joined by sheet music from MGM Inc.; and trading cards, toy watches, iron-ons, view-masters and school notebooks were just a few of the other items that make up this huge, diverse collection. It may seem overwhelming, but "CHiPs" is one of the most fun and enjoyable collections to complete.
From the publication Toy Trader
Greg Davis and Bill D. Morgan are the authors of
Collector's Guide to TV Toys and Memorabilia — 2nd Edition Website: TVTOYS.com
Copyright (c) TVTOYS.com, Antique Trader Publications, Inc. All Rights Reserved.
---
---