As seen in Pop Culture Collecting Magazine

- Published August, 1997 -
The View from
Walton's Mountain
by Bill D. Morgan and Greg Davis
Television is often thought of as an entertainment medium that allows viewers to escape the complexities of life by taking refuge in a world filled with fantasy and make-believe. It wasn't surprising, then, that executives at CBS had doubts that viewers would tune in to watch a series about a poor family living in rural Virginia during the Depression. Still, they decided to give The Waltons a shot.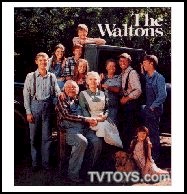 The Waltons aired on September 14, 1972 against such comedy favorites as All in the Family, Sanford and Son, and The Flip Wilson Show. The network was pleasantly surprised, when The Waltons finished an impressive #19 in the A.C. Nielsen ratings in its first year. By the end of the second season, the series leaped to the No. 2 spot. America clearly had falling in love with Earl Hamner's adaptation of his own family from his novel, The Homecoming. The gentle story about simple virtues, honesty, family unity, and love transformed The Waltons into a television classic that lasted eight seasons and spawned dozens of collectibles.

There are many Waltons fans devoted to preserving the values established by the series. John Olvey of Fairfield, AL and has been collecting Waltons' memorabilia for about four years. But John's admiration for the program extends far beyond his collection. He is active in several different Waltons' organizations, including The Waltons' Mountain Museum in Schuyler, Virginia. Olvey visits the museum often and has much of his collection on display there. Waltons' Mountain Museum is actually the elementary school where Earl Hamner and his siblings attended. The building was renovated and re-opened in 1992 to the delight of over 5,000 fans who attended the opening ceremony. Most of the original cast members were on hand for the event, as well as Earl Hamner and his family.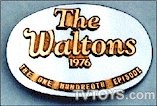 Olvey's collection at the museum consists of several elusive items, including a set of 50 trading cards distributed by Topps in 1973. The cards were printed as a very limited test run and were never fully marketed to the public. Each color photo card contains a bright pink border and a puzzle back. Individual cards are worth about $40-$50, while the set is valued at $2,000-$2,500. The cards were packaged in a simple white wrapper with a color illustration of the cast printed on its face. The wrapper is valued at $150-$200.
Another sought after item on display is a set of 24 cigar bands produced in Belgium during the original run of the series. Each cigar band includes a black and white photo of one of the show's stars, surrounded by a metallic design,.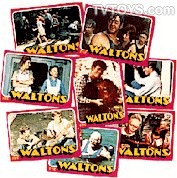 The set is worth $75-$100. Other collectibles include: a lunch box and thermos ($50-75); set of six different 8" dolls by Mego Corp. ($120-150 a set); Farmhouse Playset for the dolls ($75-100); paper doll booklet ($20-25); non-talking View-Master ($15-20); talking View-Master ($25-30); sticker book ($40-50); coloring and activity book ($15-20); a boxed truck for play with the 8" figures ($50-60); 20"x14" cardboard playset ($60-75); board game ($10-15); set of six Whitman hardback books ($4-6/each); boxed paper doll set ($30-40); die-cast metal truck ($20-25); Country Store Playset ($75-100); and kite fun book by Western Publishing ($10-15).
In the four short years that Olvey has been collecting, he has accumulated an impressive array of Waltons toys, dolls, photos, autographs, magazines & books. One item that John is still looking for is a promotional belt buckle produced by Lorimar Pictures that was presented to the cast, crew and Hamner's immediate family for the show's 100th episode. The silver buckle includes raised gold lettering that reads "The Waltons - 100th Episode."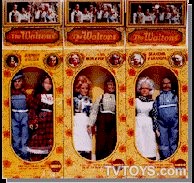 In addition to his membership at the Waltons' Mountain Museum, John belongs to the Waltons' International Fan Club and the Waltons' Friendship Society. Both organizations publish a newsletter for their members and bring together fans that cherish and admire what the show stands for. The international fan club is currently organizing a member reunion in California to celebrate the show's 25th anniversary this fall.
What makes The Waltons so appealing to fans and collectors that they'd make such an effort to keep the memories of the show alive? "The Waltons represents family values," John states. "You just don't find that same quality in shows today."

From the publication Collecting Magazine
Greg Davis and Bill D. Morgan are the authors of
Collector's Guide to TV Toys and Memorabilia — 2nd Edition Website: TVTOYS.com
Copyright (c) TVTOYS.com, Odyssey Publications. All Rights Reserved.
---
---