As seen in Pop Culture Collecting Magazine

- Published June, 1998 -


by Bill D. Morgan and Greg Davis
Dallas was the most watched and most successful hour-long dramatic series in the history of television. It was the first popular prime-time serial since Peyton Place in the 1960s and was an enormous hit in every country where it was shown, with Japan the lone exception.
During its lengthy 14-year run from 1978 to 1991, Dallas spent three seasons as the No. 1 show in America and eight in the Top 20.
What made Dallas so compelling? According to the show's producer, TV veteran Leonard Katzman, part of reason had to do with the way the story was told. Each episode of Dallas was complete unto itself, having no effect on what happened the following week. This changed as storylines became more complex in the middle of the first season. Soon parallel stories were needed, and plot twists and turns couldn't be mastered without extending the story into the next episode. It wasn't long before a continuing drama was born. This wasn't the first time this has happened in television. What made this soap opera so different was the use of a cliffhanger at the end of each season. By the end of its second year, Dallas drew international attention when viewers were kept in suspense until the third season by the most effective climax ever – "Who shot J.R.?"
Another reason Katzman attributes to the popularity of the program is the way the characters were created and how they evolved. Each episode presented an opportunity for viewers to understand the complexity and distinctive lives of each character, their family roots, the difficult lessons they learned from the past, and their aspirations for the future.
"We came to know how they think and how they feel," Katzman wrote. "It was an astonishing transformation to witness. From characters sketched out on paper, the Ewings became people who were invited into one hundred million homes each week as intimate friends."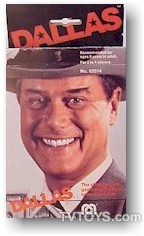 Viewers not only invited the Ewings into their homes, they also purchased a lot of Dallas memorabilia that hit store shelves. Among the collectibles produced were jigsaw puzzles, games, trading cards and paperback books. Perhaps the most striking example of the popularity of the show and its tremendous appeal was the marketing of a unique collectible – Dallas dirt. Advertised as genuine dirt from Southfork Ranch, it was packaged in a 3 x 2-inch acrylic box and labeled as the "Dirtiest Dirt in the World." In true Ewing style, purchasers were warned that "this is the dirt that men fought for and women lied for" and not to "let anyone swindle you out of your land."
Another unusual collectible was J.R. Ewing Premium Beer. Distributed by Pearl Brewing Company in San Antonio, Texas, J.R. beer was sold from "J.R.'s private stock," with the personal message, "If you have to ask how much my beer costs, you probably can't afford it – J.R. Ewing" printed on each can. Most collectors can afford the current $10-$15 price tag, however.
But most of the Dallas collectibles aren't as unusual. Pioneer Communications Network obtained approval to issue a series of paperback books based on the saga of Southfork. Widely successful, more than a dozen were created, as well as a single novel about the Ewing family by Dell Publishing. Dell's effort produced two best-selling versions – one with a cast photo cover and color photo stills on the back, and the other with a more simplistic color illustration. Dallas books are easily accessible and are valued at about $5 each.
Some of the most valuable artifacts are those that were made in other countries. They're more difficult to find, and therefore command a higher price. Inventive, a Holland-based company, distributed a Dallas Dollars board game in 1982. Complete with J.R. money and a fold-out board full of color photos, the game invites each player to become a character from the show. With the throw of the die, for example, Miss Ellie may have to pay $10 million to save Southfork. For the game aficionado, Inventive also produced a three-in-one game set with dominoes, memory, and "Bluff" game pieces. These are valued in the $30-$40 range.
Sets of 24 cigar bands were distributed in Europe. Each band contains a color depiction from the TV series and are much in demand by collectors. Difficult to find, they're valued at $75-$100 for the set.
Maruca Industries created a "Southfork Collection" of jigsaw puzzles in 1985. Each box contains more than 550 pieces and features Dallas characters. Warren Paper Products also issued a series of picture puzzles, including a cast and two J.R. versions. If found complete, they are worth $15-$20.
Mego Corp. proposed a line of 3¾-inch Dallas action figures in 1981. J.R., Bobby, Miss Ellie, Jock, Sue Ellen, Pamela and Lucy were developed into plastic dolls and advertised to retailers. However, production was halted because retailers felt the show didn't appeal to children and placed very few orders. Collectors can only dream about what could have been.
From the publication Collecting Magazine
Greg Davis and Bill D. Morgan are the authors of
Collector's Guide to TV Toys and Memorabilia — 2nd Edition Website: TVTOYS.com
Copyright (c) TVTOYS.com, Odyssey Publications. All Rights Reserved.
---
---