As seen in Pop Culture Collecting Magazine

- Published August, 1998 -


by Bill D. Morgan and Greg Davis
Of all the sitcoms produced during the 1960s, Bewitched is by far my favorite. Like most kids in America, I was mesmerized by Samantha's witchcraft. So when my friend Erin Murphy, who played Tabitha on the series, invited me to attend a birthday tribute for the late Elizabeth Montgomery on April 19, I gladly accepted.
Erin was asked to co-host the Elizabeth Montgomery Celebration Fashion Show Auction and Sale that coincided with Montgomery's birthday (she actually was born April 15, 1933), with proceeds benefiting the AIDS Healthcare Foundation of Los Angeles. Montgomery's husband, Robert Foxworth, and her children, Billy, Robert and Rebecca Asher, generously donated items from her personal wardrobe for the occasion. A few collectibles from Bewitched and a variety of Nick at Nite promotional items also were donated.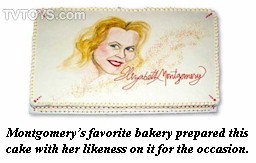 While Elizabeth Montgomery may be best known for her role on Bewitched from 1964 to 1972, she appeared in numerous television projects and feature films before portraying Samantha Stephens, the witch with a twitch. As early as 1951, viewers were able to catch an early glimpse of the star when she played opposite her real life father, Robert Montgomery, in Top Secret. The role fit her well, since she played his daughter on the show. The episode was part of a big budget, live drama series hosted by Robert Montgomery appropriately titled Robert Montgomery Presents. The dramatic anthology series became one of the best-remembered serials of TV's golden age, and featured Elizabeth on several other occasions.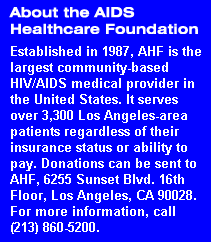 Montgomery temporarily left the small screen and played prominent roles in several feature films, including The Court Martial of Billy Mitchell (1955), Johnny Cool (1963) and Who's Been Sleeping in My Bed? (1964), which co-starred Dean Martin and her good friend Carol Burnett. Montgomery also was an award-winning actress on Broadway, receiving the 1953-54 Theater World Award as Most Promising Newcomer for her role in Late Love.
When the original network run of Bewitched ended in 1972, Montgomery continued to act, starring in several movie-of-the- week television films. She earned an Emmy nomination for her portrayal of a sexually and emotionally abused woman in A Case of Rape in 1974. The movie received one of the highest ratings in history for a made-for-television film.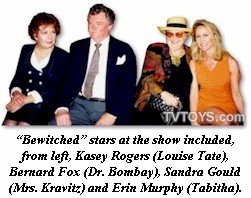 Montgomery's popularity was apparent when tickets to her birthday celebration and auction priced at $50 sold out far in advance of the tribute date. Those attending knew the afternoon would be an incredible experience. It was a large, casual gathering of people who were there for one thing – to celebrate Montgomery's life with other fans, to reminisce, laugh and have a great time.
Larry Manetti of Magnum, P.I. hosted the affair at his Duet restaurant and nightclub in Westwood, Calif. With a discotheque atmosphere, loud music, dim lights, food bar and a surrounding second-floor balcony, the setting was comfortable and refreshing – hardly one you would expect to find at a formal auction. Adding to the decor were some of Montgomery's personal belongings, which hung on racks or were spread across tables so that potential buyers could get a close look. Two TV monitors projected her image in the background as her final made-for-TV movie, Deadline for Murder, was shown.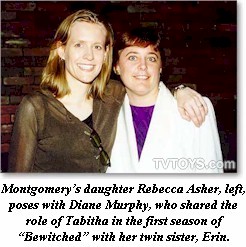 Co-hosting the event with Manetti were Rebecca Asher, Sandra Gould (Mrs. Kravitz from Bewitched), Erin Murphy and emcee Paul Ryan. Among the special guests were Bewitcheds Kasey Rogers (Louise Tate), Bernard Fox (Dr. Bombay) and Diane Murphy (who shared the role of Tabitha during the first season with her twin sister, Erin), Montgomery's long-time manager Barry Krost, and Linda Blair from The Exorcist, who contributed by modeling fashions with Erin Murphy.
Guests were treated to a coffee and light food bar lavished with fresh fruits, vegetables, hors d'oeuvres and our favorite – strawberries dipped in chocolate. The Cake and Art Bakery, where Montgomery bought all of her cakes, provided a specialty birthday cake and donated an impressive work of art for the auction. A color illustration of Elizabeth was airbrushed onto the icing, and her name was written in red script.
I was surprised to see such a sizable collection of show clothes and costumes for sale, all of which were offered in a silent auction format. Most of the fashions were worn by Montgomery in various television movies, such as Black Widow Murders, Art of Violence and Sins of the Mother. Rebecca Asher priced most of the articles under $20. With all of the proceeds benefiting the AIDS Foundation, she felt it was important that the items be affordable, and that everything should sell.
Items available included a Nick at Nite leather jacket, a watch and an original Al Hirschfeld sketch featuring TV favorites like Sonny and Cher, the cast of Green Acres, Marlo Thomas of That Girl, and Gomez and Morticia Addams. The sketch sold for $250, while the jacket, which featured the familiar Nick at Nite TV logo on the back and bright red sleeves lined with a white stripe, went for $210.
Not many artifacts from the Bewitched series were up for grabs. The only official Bewitched merchandise offered were a cast photo writing tablet that I donated, and an original Bewitched paperback novel, courtesy of Erin Murphy. Both did extremely well. The paperback was the biggest surprise, fetching $150 – three times its estimated value – while another excited bidder walked away with the writing tablet for $70, twice its collectible value. An 8 x 10 Bewitched photo was included with most of the items offered.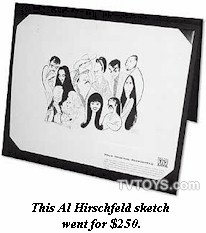 Before the fashion show began, members of the Bewitched cast shared their favorite memories of Montgomery with the audience. Each story was humorous and touching, giving everyone there a unique insight into Elizabeth's endearing and generous personality.
One of the most memorable anecdotes came from Kasey Rogers (Louise Tate), who revealed Montgomery's mischievous side. She recalled that one night during the taping of a dinner party scene at the Stephens' house, something was different about the wine they were drinking. "On camera or working, the actors were never allowed to drink real wine," Rogers explained. "But Elizabeth had the prop department pour real wine in the bottle instead of the usual water mixture." With the cameras rolling, they were quite surprised to discover they had been duped, and noticed Montgomery's eyes dancing with delight. She said they finished the scene on the first take, and then burst out laughing.
The program continued with models wearing many of the clothes featured in the auction. Before the fashions were showcased on the stage runway, Erin Murphy performed a dance routine with a group of male dancers dressed in black suits and colored ties. When the music ended, Erin twitched her nose and the stage backdrop was magically unveiled.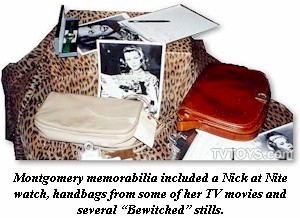 The stage was appropriately decorated with four 4 x 5-foot mounted photographs of Montgomery from various years of her career. Each portrait (three were black and white, the other one color) served as a section of the stage background. All four panels were later added to the auction along with the clothes that were modeled.
In the spirited and competitive bidding that followed, the last panel in the stage backdrop – a black and white photo of Montgomery as Samantha reading a Bewitched comic book – went for $330. The two other black and white portraits brought just over $100 each.
I was the proud winner of the large color portrait – a great photo of Montgomery taken on the Bewitched set – for $220. You can imagine the reaction I got as we walked several blocks along congested Los Angeles city streets carrying this enormous photo of Samantha Stephens! At one intersection I walked directly in front of a car driven by Bernard Fox (Dr. Bombay), who had a huge grin on his face as he watched Samantha float gracefully across his path.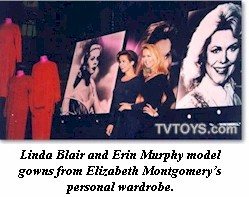 Although the bidding on some items was fast and furious, one in particular caused a heated debate between two male fans. One of the men had flown all the way from New Orleans looking for Bewitched-related costumes. Only one fashion item from the series was available – a two-piece, hippie-style "Serena" outfit. When the auction ended, the losing bidder claimed the other had entered his bid after the sale closed. As a compromise, the men agreed to share the outfit. One purchased the bell-bottom jeans decorated with a few groovy patches, while the other bought the top part of the outfit.
Winning bids ranged from $70 to $2,000, the latter being paid for a black and gold Gucci gown. The disputed "Serena" outfit sold for $1,250, Erin Murphy purchased a black knit dress for $150 (she also paid $75 for a pair of cowboy boots from the 1979 film Belle Starr), a black lace dress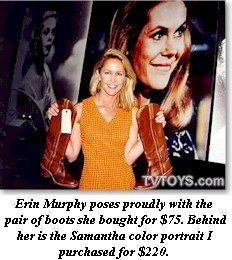 that Murphy modeled fetched $120, a brown purse from the TV movie Art of Violence garnered $150, and several other fashions sold in the $150-$175 range. Altogether the auction raised over $20,000 for the AIDS Healthcare Foundation. It was a memorable event, one that Montgomery would have been proud of.
Before her untimely death in 1995 at the age of 62, Montgomery was an advocate for many causes, including the AIDS Project and Amnesty International. She once said: "There are times when I know I could still be doing more, as there are many other things in life that are certainly more important than acting." She was diagnosed with colon cancer just eight weeks prior to her death.
Not only did the event benefit a worthy cause, it gave family, friends and devoted fans an opportunity to celebrate the life and career of a beloved television and film star. Rebecca Asher thanked the guests in attendance, and told them that her mother loved contributing to important charities during her life, and would be thrilled to know that she was still contributing, even after her passing.
CLICK HERE
to see BEWITCHED Collectibles for sale!
From the publication Collecting Magazine
Greg Davis and Bill D. Morgan are the authors of
Collector's Guide to TV Toys and Memorabilia — 2nd Edition Website: TVTOYS.com
Copyright (c) TVTOYS.com, Odyssey Publications. All Rights Reserved.