As seen in Pop Culture Collecting Magazine

- Published November, 1998 -
Classic TV



by Bill D. Morgan and Greg Davis
There was a time when lunch boxes were not considered desirable collectibles. Back in the early 1980s, these unwanted artifacts easily could be found at garage sales and thrift stores. Things have changed dramatically in the 1990s. Within a few short years, lunch boxes have taken the market by storm, and are a major player in the collectibles arena.
There are several possible explanations for the sudden popularity of lunch boxes. Adult collectors may be trying to reclaim their childhood memories by purchasing their favorite pails, or maybe the meticulously-detailed illustrations on each box finally have been noticed, and now they're considered works of art. Whatever the reason, dealers and collectors alike, realizing that there are simply not enough to go around, are clamoring to get their hands on them.
While a handful of reasonably priced pails still can be found at local antique shops, the most desirable lunch boxes are hard to find, and come with a steep price tag. Condition plays in important part in the value of a box, with rust, dents and scratches reducing its worth dramatically.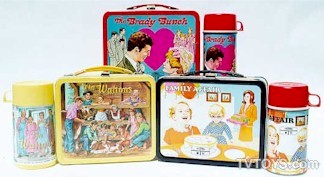 Collectors should expect to see a wide range of prices depending on the pail's rarity and condition. However, just because a lunch box is easy to find doesn't necessarily dictate a low value. Pails from The Fall Guy, The Muppets, Mork and Mindy, Mr. Merlin and Strawberry Shortcake are readily available, yet are worth at least $25 – more than five times their original price.
Only a few entries fall into the $25-$50 range. These include Knight Rider, Curiosity Shop, The A-Team and How the West Was Won. For $50 to $75, collectors should be able to purchase two different pails from The Dukes of Hazzard, The Bionic Woman and The Six Million Dollar Man, and single boxes from Buck Rogers, The Hardy Boys and The Nancy Drew Mysteries.
Pails valued at more than $75 are the most sought after. An impressive assortment is available up to $100, including those from Saturday morning shows like Super Friends, Sigmund and the Sea Monsters, Scooby-Doo, Lidsville, Land of the Lost, The Krofft Supershow, The Bugaloos, Hong Kong Phooey and The Road Runner Show. Other TV favorites include Little House on the Prairie, The Waltons, Happy Days (two designs), Julia, Family Affair, Fat Albert, Charlie's Angels, Kung Fu and Welcome Back Kotter.
As collectability and rarity increase, some pails reach values beyond what many collectors can afford. TV Westerns from the 1960s are in this group, with boxes featuring Davy Crockett, Roy Rogers, Zorro, Daniel Boone, Gunsmoke and Hopalong Cassidy commanding $200 and up, depending on condition.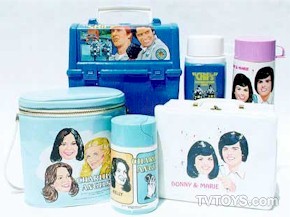 Some of the most valuable lunch boxes are actually metal lunch domes. Domes didn't hold up as well as the sturdy box style, and many ended up with dents in their vulnerable tops. In addition, because domes were produced in smaller quantities than boxes and other styles, their values are correspondingly higher. Among this group, pails for Emergency, The Jetsons, Hogan's Heroes, It's About Time and Lost in Space are extremely hard to find.
When looking for lunch boxes, collectors should be aware that styles other than boxes and domes are available. In the "lunch box" category are those made of plastic and vinyl. Plastic versions from the 1970s include S.W.A.T., CHiPs and Mork and Mindy, but their values are far below those of their metal counterparts.
Vinyl boxes and brunch bags, which include Donny and Marie, New Zoo Revue, The Banana Splits and The Archies, are extremely difficult to find, and can exceed metal and plastic pails in value. The New Zoo Revue box, for example, sells for about $400. Vinyl brunch bags for John Travolta, The Flying Nun and Charlie's Angels can approach $200.
The emergence of lunch boxes as a leader in the collectibles market can be seen by the release of new versions and reproductions. A few years ago, the Fossil Company released a series of watches in small-scale lunch box containers. It wasn't long before novelty boxes caught on, led by The Tin Box Company of America. The latter's TV lineup includes newly-designed styles for Lassie, Popeye, Dudley Do-Right and Underdog.

In 1998 Big Fun transformed miniature versions of vintage boxes into collectible keychains. Among its 1-inch plastic replicas are Happy Days, Get Smart, The Beverly Hillbillies, The Wild, Wild West and Gunsmoke. Each features a moving handle and opens up to showcase a tiny thermos with removable lid and a piece of fruit.
Full-scale lunch boxes have surfaced that are exact reproductions of Howdy Doody, Roy Rogers and The Lone Ranger. Several others will be released before the end of the year, including dome versions of Lost in Space, The Green Hornet and Fireball XL5.
From the publication Collecting Magazine
Greg Davis and Bill D. Morgan are the authors of
Collector's Guide to TV Toys and Memorabilia — 2nd Edition Website: TVTOYS.com
Copyright (c) TVTOYS.com, Odyssey Publications. All Rights Reserved.