As seen in Pop Culture Collecting Magazine

- Published March, 1999 -
Collecting Gilligan's Island
by Bill D. Morgan and Greg Davis

On September 26, 1964, a simplistic and sappy television program began a course that would become far more than just a fateful trip. Gilliganís Island, which consisted of just 98 episodes, is now one of the longest running syndicated television shows in history. Since the three original seasons ended more than 30 years ago,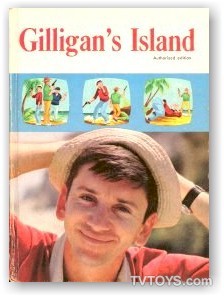 Gilliganís Island has reached cult status with a tidal wave of devoted fans. With this kind of attention, it seems that the seven castaways have become permanently stranded in rerun heaven.
The crew's adventures have spilled over into several spin-offs. The first was The New Adventures of Gilligan, a Saturday morning animated cartoon based on the original series that ran for three years starting in 1974. With the exception of Tina Louise (Ginger) and Dawn Wells (Mary Ann), the original cast members gave voice to their cartoon counterparts. A made-for-TV movie, Rescue from Gilligan's Island, aired in 1978. All of the original cast except for Tina Louise (who was replaced by Judith Baldwin) reprised their roles. The movie was moderately successful, and inspired two other made-for-TV movies, The Castaways on Gilliganís Island (1979), and The Harlem Globetrotters on Gilliganís Island (1981). While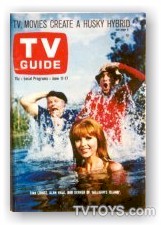 the latter two plummeted in the ratings, they contained an interesting concept Ė returning to Gilligan's Island to open a resort for visitors. Had the program succeeded, creator/producer Sherwood Schwartz planned on a weekly series where celebrity guests would stay at the resort, a similar premise to other hit TV shows of the time, The Love Boat and Fantasy Island. The last Gilliganís Island spin-off came in 1982, when the crew returned to animation and became lost in space during the course of Gilliganís Planet.
Despite their overwhelming fascination with Gilliganís Island, fans and collector's have been disappointed by the surprising lack of Island memorabilia that was produced. Memorabilia from the original TV show literally can be counted on one hand. Whitman Publishing produced two items, a 128-page coloring book in 1965 and a storybook in 1966. The coloring book, which features Gilligan on the cover with all seven castaways illustrated throughout, is very difficult to find in any condition.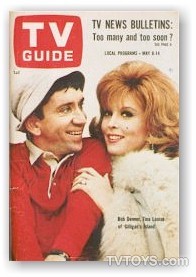 Uncovering an uncolored one can set a collector back more than $100. The storybook, a 210-page hardcover based on the series, has a photo of Gilligan on the front. It is easier to find, thus has a lower value in the $30-$40 range.
Gilligan Island trading cards are the most valuable items to collect. Produced by Topps in 1965, the 55-card set includes mini-movie scenes on the each back of each card. When the cards are put in order and fanned, two separate movie scenes are created. Each card sells for $10-$15 today. A reprint of this set was produced recently, and sells for about $25. Numbered and limited to 2,500 sets, the reprints include an additional card sporting the original wrapper design.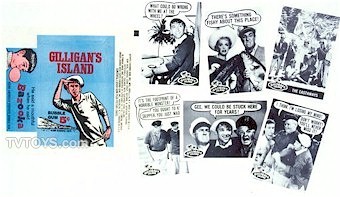 Two other items complete the small batch of vintage commodities Ė a board game and an 8 x 10-inch writing tablet featuring a photo of Gilligan and The Skipper. Produced by Game Gems in 1965, the board game is highly coveted by collectors, and is worth more than $400. Box graphics include the likes of Gilligan, Mr. Howell and The Skipper floating in a small boat.
When The New Adventures of Gilligan came ashore, so did a few more toys. The first was a 1972 board game that included a pop-up display. Creating the visage of an island, it comes complete with a bamboo hut and palm tree. Players race around the board in attempt to be the first to find their way back to the hut. Itís not difficult to find, and usually sells for less than $50. A 1975 Dip Dots Paint and Design Book is one of the most elusive pieces. The 20-page booklet includes line art drawings of the cartoon cast and comes enclosed in a colorful box with water color paints and a brush. The last item based on the cartoon was the Gilliganís Floating Island Playset. Produced by Playskool in 1977, the boxed set includes a plastic figural island along with three soft vinyl figures of Mary Ann, The Skipper and Gilligan.
With the growing demand for vintage collectibles, a few manufactures have decided to produce new Gilliganís Island memorabilia.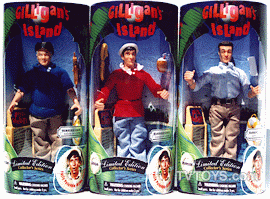 The first came in 1992 when Presents created 9Ĺ-inch figures of Gilligan and The Skipper. In 1997 Exclusive Toy Products designed two more versions of the two mates along with The Professor. Unlike Presentsí hard plastic figures, these 9-inch dolls have soft vinyl heads and come in attractively designed boxes with accessories. Other recent items include a Nintendo game, a word magnet set by Fridge Fun, a 2 x 3-foot poster of Gilligan and The Skipper, an arcade pinball game, a video collection series from Columbia House, T-shirts, sweatshirts and a baseball cap.
The latest addition to the Gilliganís Island collection is the 1998 trading card set by Dart Flipcards, Inc. The 72 photo-card set includes scenes from the original series, publicity stills, and a cartoon and movie card. In addition, six different lenticular cards that create 3-D images are randomly inserted into the packs. Mail-away offers include a six-card Dream Sequence set and a collectorís binder to hold the cards. Basic card sets are currently selling for $10-15. Grab this piece of the Island before it washes away with the other collectibles!
From the publication Collecting Magazine
Greg Davis and Bill D. Morgan are the authors of
Collector's Guide to TV Toys and Memorabilia — 2nd Edition Website: TVTOYS.com
Copyright (c) TVTOYS.com, Odyssey Publications. All Rights Reserved.
---
Gilligan's Island
QuickLinks
---